Theresa Public Library's 2017 Summer Reading Program runs
June 5th through July 28th. This year's theme is "Build A Better World". Enjoy crafts, coding, STEM activities and a variety of programs.
Children are encouraged to read over the summer and earn prizes!

The week of June 12 – 16: Preschool Star Wars Projects include
decorating Chewbacca Cookies, making Star Wars Stick Puppets,
a Star Wars Mask, Robe and Balloon Light Saber.
The week of June 19 – 23: Elementary and Up Star Wars Projects include
making Graham Cracker Ships, crafting Light Sabers, Masks, Yoda Ears
and Leia Hair Buns, and Robes if you didn't make one the week before.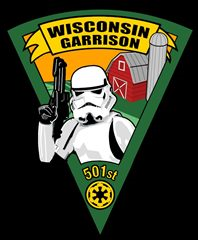 Monday June 19th from 6pm to 8pm
our Library will have a special visit from
Star Wars Characters thanks to the
Wisconsin Garrison 501st.
Mondays in June from 12:30pm to 1:30pm join us for an Hour of Code:
June 5th – Star Wars Building a Galaxy with Code Blocks via code.org.
Drop Drag Blocks to move BB 8, Create a Video Game.
June 12th – Star Wars Building A Galaxy with Code Java Script via code.org.
June 19th – Scratch & Scratch JR: Block Coding. A snack will be provided.
Wednesday, June 21st from 2pm – 4pm don't miss the annual Ice Cream Social sponsored by Friends of Theresa Public Library. 
The week of June 26 – 30 make a Star Wars Veggie Ship, enjoy STEM activities such as Roll a Pop Can, Fly a Fighter Glider, Levitate a Sphere, Destroy the Death Star,Craft Clothespin Shooters to shoot down Storm Troopers.
Saturday, July 8th 9am – 1pm enjoy Family Fun at the Horicon Marsh Educatation and Visitor Center. Join us at the Marsh for a fun-filled day of indoor and outdoor activities for all ages. Activities include admission to the Horicon Marsh Explorium, wildlife walks, dip netting, crafts for kids,
face painting and much more!
The week of July 10 – 14 you are invited to make Magazine Bead and Straw Necklaces. Then the week of July 24 – 28 make Harmonicas and Kazoos.
Tuesday, July 18th at 2pm join us for Ms. Kim's Amazing Animals Program.
Tuesday, August 1st at 2pm have fun at the Zoomlata Magic & Balloon Show. 
August 7 – 11 join us for Coding Unplugged to try out our coding games:
Code + Go Robot Mouse, Robot Wars, and Robot Turtles.
Pick up a brochure at the library for more details. 
August 14 – 18 we will have Legos available for you at our Library.